Michelle Spadafora, the founder of Faithful Workouts, currently lives in Colorado with her husband, Jeff, their three children, Denika, Neal and Quinn (and also their 3 fur children, Mojo, Remy, and Jinxy the cat). In her opinion, she has the best family ever :)
Michelle loved being active when she was younger, and that led into teaching fitness classes as time went on. Today, Michelle has been teaching fitness classes and leading workouts for just over 30 years! She has a garage-turned-fitness-studio outside her home that she still teaches classes in today, and many of the faces that you see in the Faithful Workout's videos are friends of Michelle's that attend her classes.
Aside from teaching fitness classes, Michelle also loves to cook! Eating healthy in this day and age can be confusing - everyone seems to have different opinions about what's healthy and what's not. Michelle loves to make healthy eating simple for people by preparing recipes that are quick, delicious, and can be prepared with ingredients that you can pronounce and find right in your local grocery store.
Michelle is a big believer in being real and authentic with her family, friends and, of course, all of you! She's not perfect, and she has no problem with that. Michelle can often be seen wearing outfits like the ones you see below out and about, and it doesn't bother her one bit! She loves being silly, and wants to encourage other people to be themselves and to be silly and to not be so afraid of what others might think.
Michelle only met Jesus when she was around 40-years-old, so she also has a passion for helping people come to know that they are loved by the creator of the universe! She wanted to use all of her talents in a way that would glorify God, and out of that desire, Faithful Workouts was born. Michelle founded Faithful Workouts in 2009 after feeling like God put the words "Fully Integrated" on her heart. She realized that people - including herself - were making the mistake of compartmentalizing their lives. Food went in one box, fitness in another, and then God in yet another. Michelle felt God saying that he wanted to help people break free from their boxes and start living lives that were fully integrated. To Michelle, living a fully integrated life just means that God is a part of everything you do! That's how she tries to live each day - full of joy, hope, and love for God, herself and others. She's not perfect - far from it - but what fun is being perfect anyway?
Below are some pictures of Michelle and her friends and family: use the arrows to go forward and back.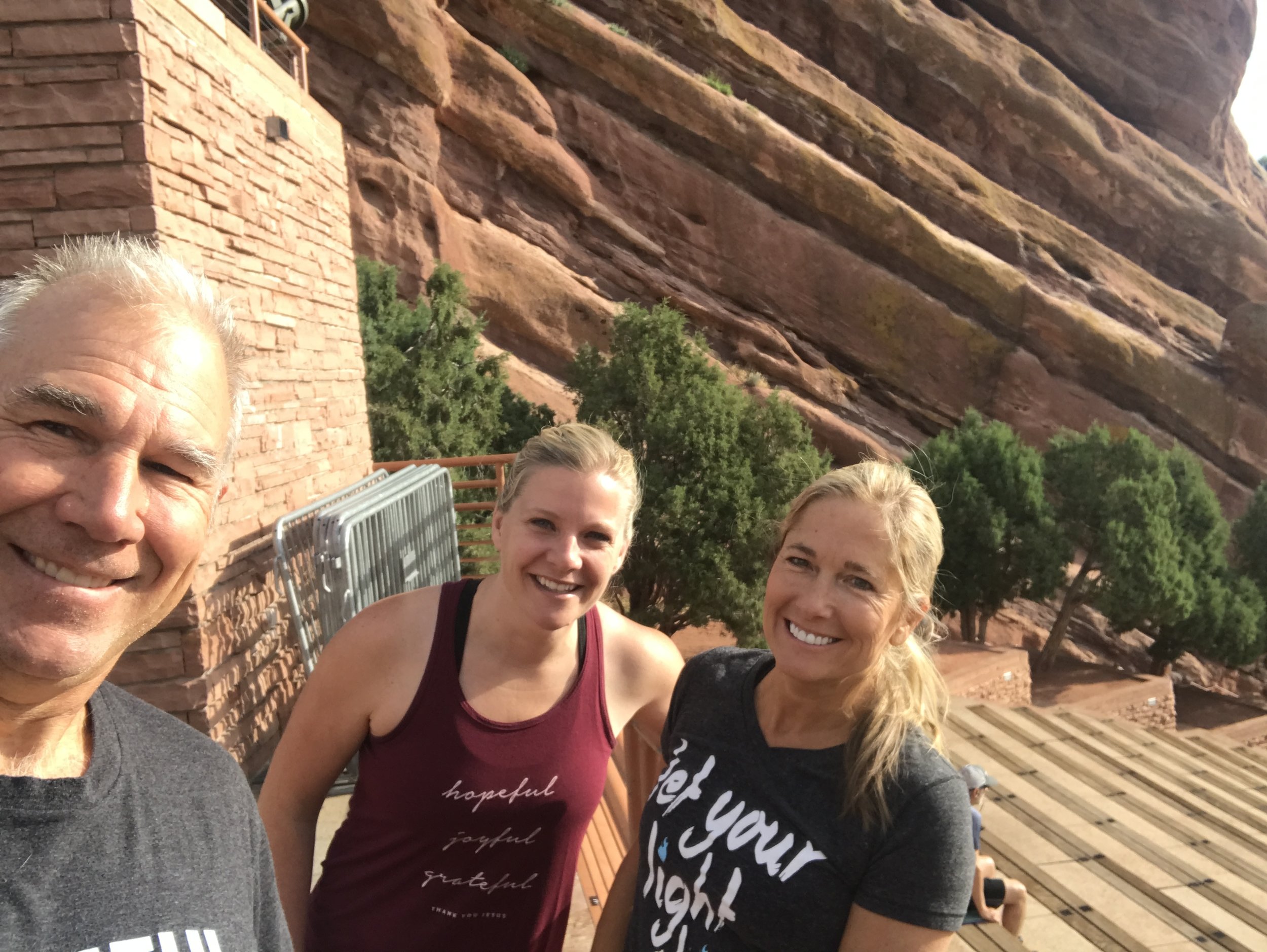 Bree works alongside Michelle here at Faithful Workouts. Bree is actually Michelle's niece (her mom is Michelle's sister), and she loves working with her aunt and living in Denver. Bree has a masters degree in Neuroscience/Psychology, and she loves to use what she knows about the brain and behavior to help people lead more healthy lives. Bree loves Jesus, swimming, hiking, eating, reading, and being around her friends and family (and, of course, petting Mojo)! If there was one thing Bree would want you to know, it's that you were born to be loved. Live out of a place of knowing that you are loved by God, not out of a place of constantly trying to earn his praise and affection.
The real stars of Faithful Workouts!
When you watch our videos, you may notice that Michelle is hardly ever working out alone. Pictured below are some of her friends and family that you may recognize from the videos! These people give up their time and energy to help make Faithful Workouts what it is, and Michelle could not be more thankful for each of them :)
Guest Instructors